1 pack = 60 Vega capsules = 1-month supply
The vegetarian capsules (Vega caps) contain 800mg of curcuma extract* with a minimum content of 48mg (approx. 9.4g**) curcuminoids per capsule as well as 12mg of vitamin C and 8.6μg of vitamin D3.
*NovaSOL® Curcumin
** Equivalent amount of conventional curcumin due to the approx. 185-fold higher bioavailability of ImmunoMax® CurcumaNova.
Worth knowing
Curcuma is a yellow root extract known as an essential component of curry mixtures with a century-old tradition of health-promoting applications. The main active ingredients that are found in turmeric rhizomes are curcuminoids.
Curcumin (Diferuloylmethane) contained in ImmunoMax® CurcumaNova is the coloring component of the Curcuma plant. Curcumin is a secondary phytochemical to which many health-promoting properties with high preventive and therapeutic potential are attributed.
Curcumin is absorbed by the organism only in very small amounts. Bioavailability, therefore, is crucial: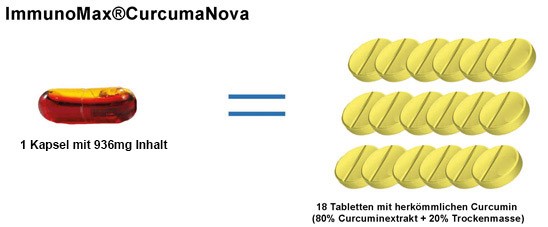 1 capsule containing 936mg =
equivalent to approx. 18 tablets with conventional curcumin (80% curcumin extract + 20% dry matter)
The curcumin contained in ImmunoMax®CurcumaNova is embedded in micelles (small "bubbles") which are more easily absorbed by the body without causing any chemical alteration of the active ingredients. On the contrary, the patented process produces a nature-analog structure of these substances with the result that the bioavailability is about 185 times higher compared to conventional curcumin powder, while also featuring an approximately 6.8-fold faster absorption by the organism. Thus a capsule of CurcumaNova delivers as much bioavailable curcumin as about 8 grams of native curcumin. The development of a higher curcumin bioavailability was achieved thanks to a research project funded by the German Federal Government at the University of Hohenheim. That is why ImmunoMax® CurcumaNova is the supplement of choice.
Further articles
CurcumaNova contains no gluten and no lactose.
We deliver in pharmacy quality! All oral meria® products have a Marketability Certificate issued by a publicly appointed and sworn food expert.
Turmeric in research
In the video: Dr. Gunter Eckert - Goethe University (Frankfurt/Main) and Prof. Jan Frank - University Hohenheim
Application
CurcumaNova recommended dosage:
Take 2 capsules per day with plenty of water, unchewed, during or after a meal.
The indicated daily dose should not be exceeded.
Nutritional information 1 capsule/ NRV % ___2 capsules/NRV %
Curcuma extract* 800mg / --% 1.6g /--%
thereof curcuminoids 48mg = approx. 9.4g** 96mg = approx. 18.8g**
Vitamin C 12mg /15% 24mg / 30%
Vitamin D³ 8.6µg / 172% 17.2µg / 344% ___
*NovaSOL® Curcumin
** Equivalent amount of conventional curcumin due to the approx. 185-fold higher bioavailability of ImmunoMax® CurcumaNova.
NRV (Nutrient Reference Values). % of the recommended intake for adults according to LMIV (German Food Information Regulation)


Indication of ingredients
Emulsifier polysorbate 80; Curcuma extract * in MCT oil; L-ascorbic acid (vitamin C); Cholecalciferol (Vitamin D³) Capsule Hydroxypropylmethylcellulose (purely vegetable)
*NovaSOL® Curcumin
Content per pack
60 vega capsules with 936mg each = 56,1g
Contains no gluten and no lactose.
Food supplements should not be used as a substitute for a balanced and varied diet as well as a healthy lifestyle. The recommended daily intake should not be exceeded.
Please keep the product out of the reach of small children.