DURAMENTAL® GLUTATHION 500mg MONO - Subscription 3-pack
All meria® products are recommended for long-term use.
Minimum term: 6 months
180 Vega capsules = 3 month's supply
Also available in German pharmacies.
All our products are:



---
The additional intake of the basic product DURAMENTAL® GLUTATHION 300mg PLUS avoids the accumulation of vitamins and trace elements contained therein.
180 Vega capsules = 3 month's supply
You save 15% (subscription) for immediate payment for a 3-month package in the amount of 195.00 € (instead of 223.50 €).
DURAMENTAL® GLUTATHION 500mg MONO is the ideal supplement to our basic product DURAMENTAL® GLUTATHION 300mg PLUS, which contains vitamins and trace elements in its unique combination of active ingredients to improve bioavailability.
In case of a therapeutically necessary high dosage, the additional intake of this monoproduct helps avoids the accumulation of the vitamins and trace elements contained in the basic product.
DURAMENTAL® GLUTATHION oral is highly bioavailable! A new clinical study conducted wit the raw material Setria® used in DURAMENTAL® under the direction of internationally renowned scientists from the Penn State College of Medicine, USA; (double-blind, randomized and placebo-controlled) showed as a clear result, that the oral intake of Glutathione (GSH) significantly increases the body's own glutathione level.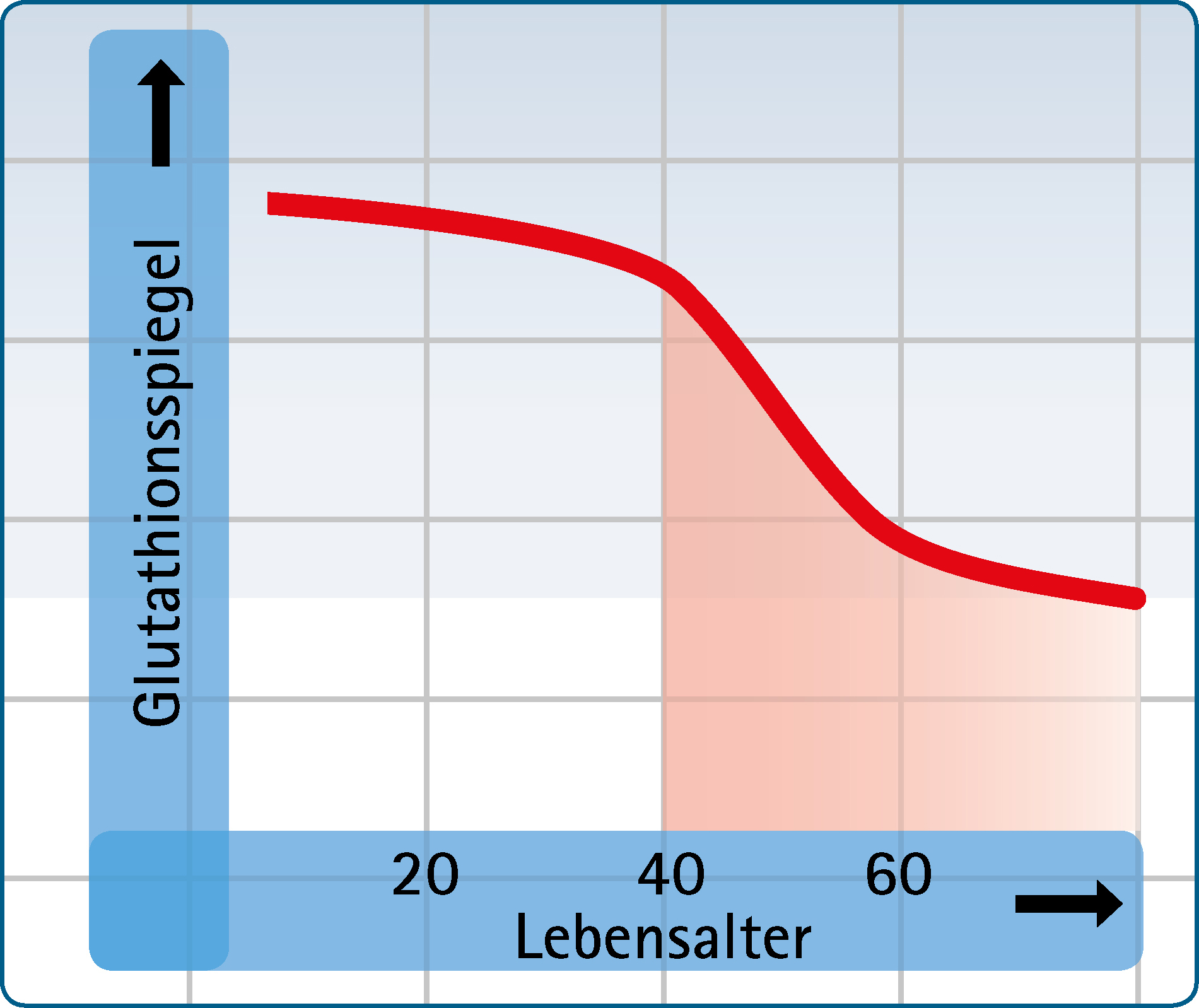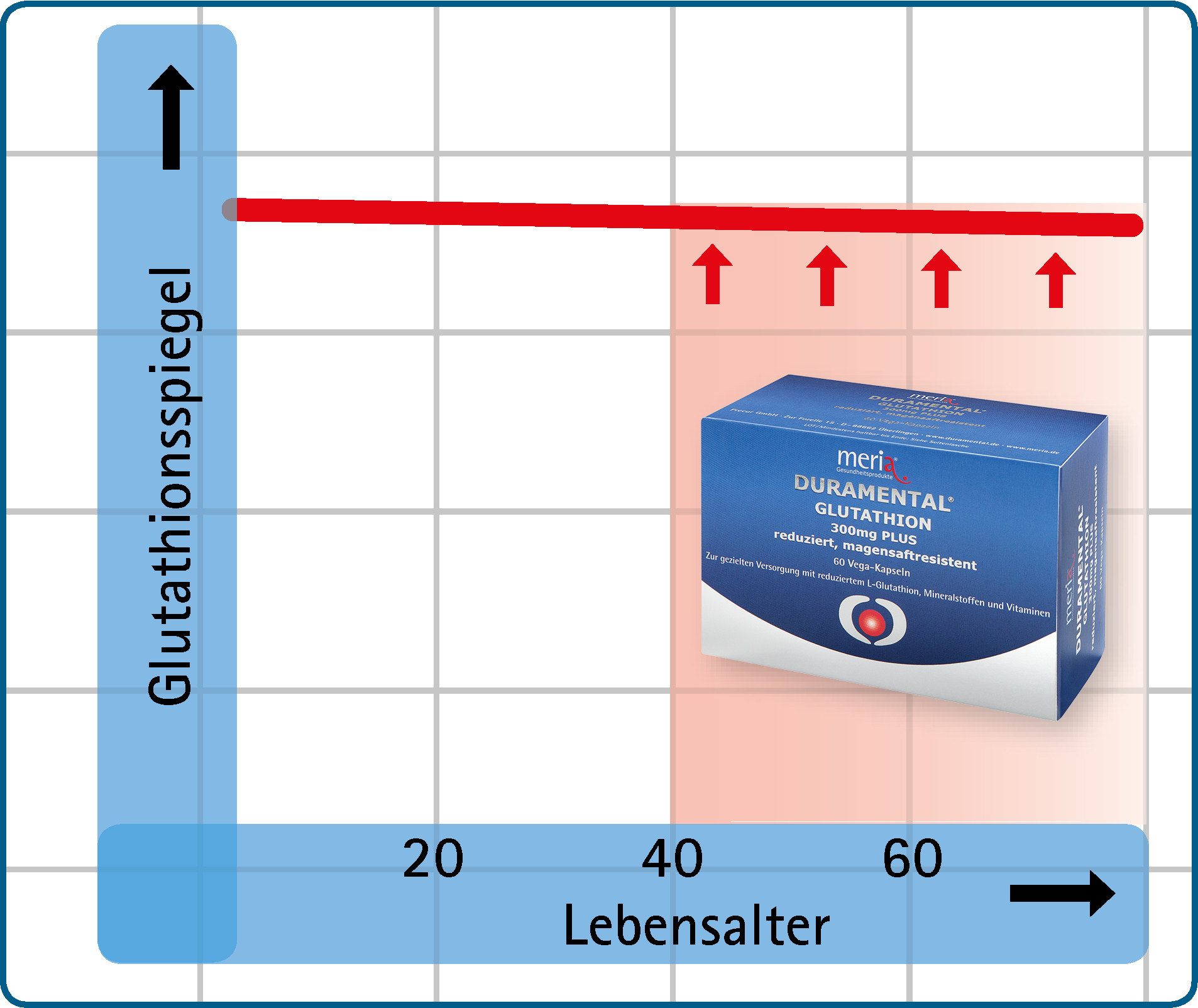 The enteric coating of the DURAMENTAL® GLUTATHION tablets is another important element in supporting bioavailability when taken orally: the L-glutathione contained in the tablets is only released in the duodenum and is not already partially broken down by gastric acid.
DURAMENTAL® GLUTATHION does not contain gluten, lactose or any substances of animal origin.
Good to know: Glutathione is also found in high concentrations in almost all plant cells and acts as a kind of redox buffer in the removal of toxic peroxides such as ozone and supports the binding and removal of heavy metals in the plant.¹
So the plants do it.
¹ Further information is available at www.duramental.de
We deliver in pharmacy quality!
Food supplements. All oral meria® products have the certificate of marketability, issued by a sworn food expert, and are fully marketable in accordance with German and EU food law.
Application
2 capsules/day (1000mg glutathione) additionally to the base product.
In case of a suboptimal glutathione status 4 capsules / day (2000mg Glutathion) to be used in addition to the base product until normalization. To be taken with plenty of water before meals. The recommended dosage should not be exceeded without instruction by a therapist.
Ingredients:
L-glutathione reduced (GSH) ¹, microcrystalline cellulose, parting agent silicon dioxide, magnesium salts of food fatty acids
Capsule: Hydroxypropylmethylcellulose, coating agent Gellan
¹

/Kyowa
DURAMENTAL® GLUTATHION meets the high quality requirements of the most important official pharmaceutical monographs (EP, USP & JP) by using Setria®-GSH as raw material. Setria® is obtained from plant raw materials in a patented process and is based on the latest clinical research.
Enteric coated, free from gluten, lactose and substances of animal origin.
Content per jar:
60 Vega capsules = 47.4 g, 1 capsule = 790 mg
Food supplements should not be used as a substitute for a balanced and varied diet as well as a healthy lifestyle. The recommended daily intake should not be exceeded. Please keep the product out of the reach of small children.