DURAMENTAL® GLUTATHION 300mg PLUS
The glutathione with the health formula
All meria® products are recommended for long-term use.
60 capsules = 1-month supply
Also available in German pharmacies.
All our products are:



---
DURAMENTAL® GLUTATHION 300 mg PLUS reduced, highly concentrated
60 Vega capsules
Consumer prices:
Package content 60 Vega capsules = 1 month's supply 49.50 EUR
Package content 120 Vega capsules = 2 month's supply 93.00 EUR You save 6%
Package content 180 Vega capsules = 3 month's supply 136.50 EUR You save 8%
DURAMENTAL® GLUTATHION oral is highly bioavailable! A new clinical study conducted wit the raw material Setria® used in DURAMENTAL® under the direction of internationally renowned scientists from the Penn State College of Medicine, USA; (double-blind, randomized and placebo-controlled) showed as a clear result, that the oral intake of Glutathione (GSH) significantly increases the body's own glutathione level.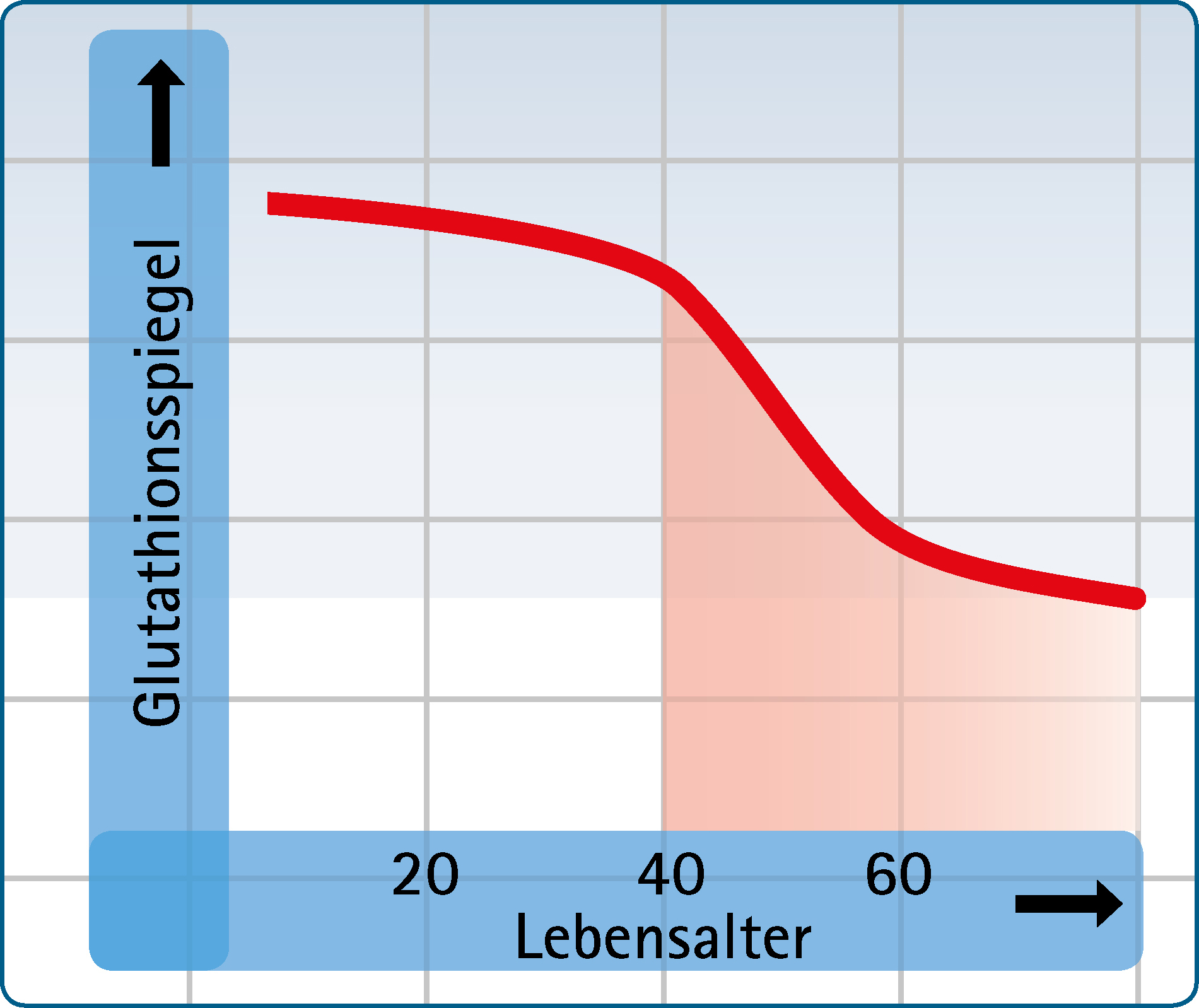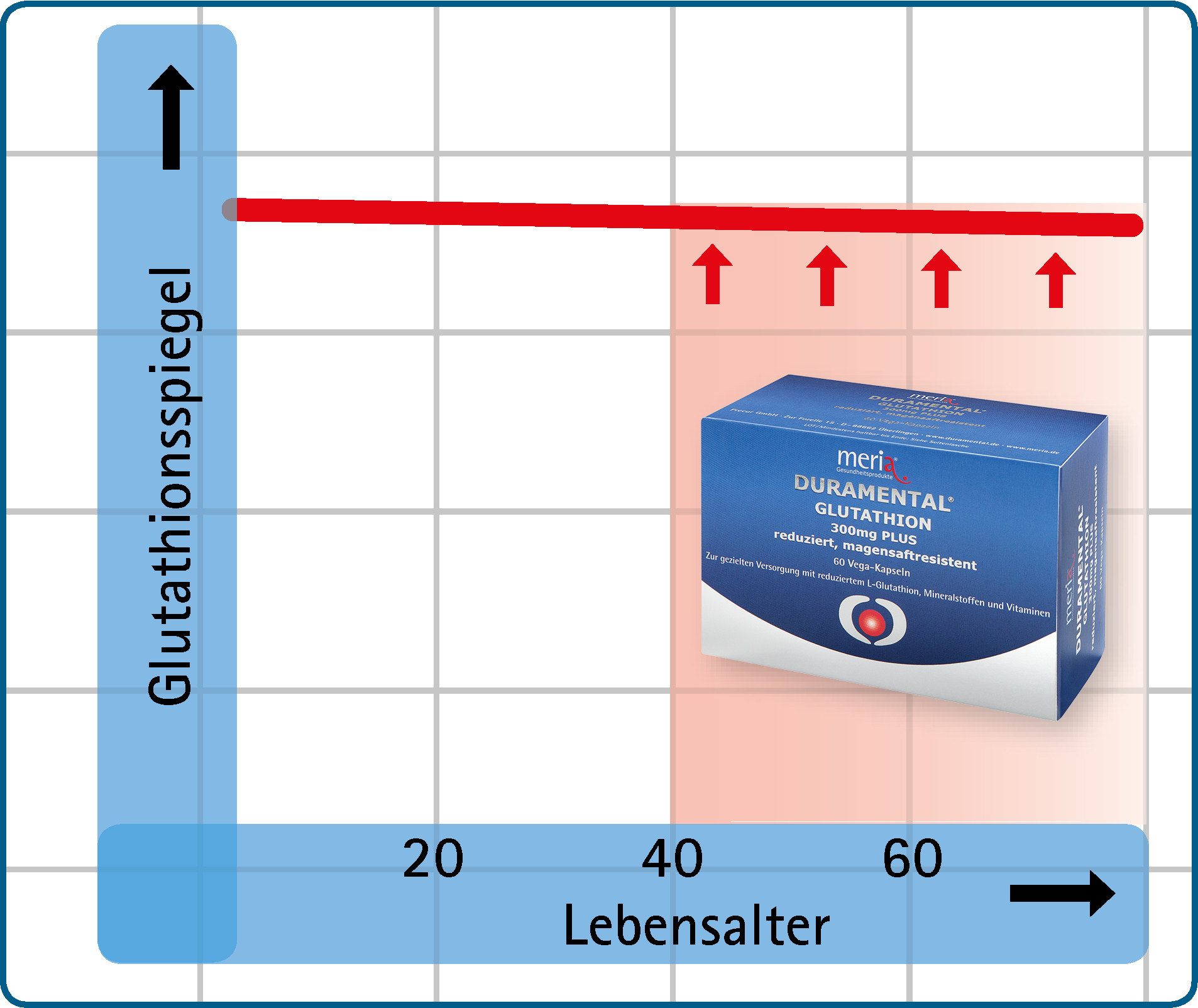 L-glutathione, enteric coated, has been specially developed for meria® in its unique combination of active ingredients on the basis of an expert opinion.
For an optimal bioavailability with orally administered glutathione, sufficient concentrations of the trace elements selenium and zinc are needed, once they activate the necessary enzymes. Furthermore, a combination with the antioxidant vitamins C and E is required, since the antioxidative mechanisms work together in the body as in an orchestra. Manganese is important for the antioxidative protection of cell components and acts via the activation of glutathione peroxidase in the presence of sufficient glutathione. Folic acid assists the performance of memory with increasing age, while vitamin B12 in sufficient concentration is, among other things, a precondition for the effectiveness of folic acid.
In addition to supporting the bioavailability of glutathione, the vitamins and trace elements contained in the product have a number of positive effects on your health, read here.
The enteric coating of the DURAMENTAL® GLUTATHION capsules is another important element for the support of bioavailability with an oral intake: the glutathione contained is only released in the duodenum and not already broken down by gastric acid.
Glutathione is permanently needed by the body cells. If the supply with glutathione does not meet the individual requirements, a dietary supplementation with glutathione is recommended. Based on experience, it should be taken every day and on a long term basis.
DURAMENTAL® GLUTATHION does not contain gluten, lactose or any substances of animal origin.
Good to know: Glutathione is also found in high concentrations in almost all plant cells and acts as a kind of redox buffer in the removal of toxic peroxides such as ozone and supports the binding and removal of heavy metals in the plant.¹
So the plants do it.
¹ More information at www.duramental.de
We deliver in pharmacy quality!
Food supplements. All oral meria® products have the certificate of marketability, issued by a sworn food expert, and are fully marketable in accordance with German and EU food law.
Application
An optimal dietary supplementation is achieved by taking 2 capsules a day before a meal with plenty of water. One capsule contains 300 mg of (active) glutathione. The indicated intake should not be exceeded.
Ingredients (Tabelle erstellen)
| | | | |
| --- | --- | --- | --- |
| Nutritional value | per 1 Capsule | per 2 Capsules | RDA ( % ) * |
| Glutathione | 300 mg | 600 mg | - |
| Vitamin C | 75 mg | 150 mg | 187.5 |
| Vitamin E | 12 mg | 24 mg | 200 |
| Zinc | 6 mg | 12 mg | 120 |
| Manganese | 1 mg | 2 mg | 100 |
| Folic Acid | 300µ | 600µ | 300 |
| Selenium | 20µ | 40µ | 72,7 |
| Vitamin B¹² | 5µ | 10µ | 400 |
* recommended daily intake according to RDA.
Ingredients
L-Glutathione (reduced, as GSH) ¹ ; vegetable capsule made from hydroxypropylmethylcellulose, gellan, ascorbic acid (vitamin C); D-alpha-tocopherol (natural vitamin E); zinc mono-L-methionine sulphate; filler microcrystalline cellulose, parting agent silicon dioxide, magnesium salts of fatty acids, manganese bisglycinate, folic acid (vitamin B9); L-selene-omethionine; hydroxocobalamin (vitamin B12).
¹

Contains no gluten and no lactose.
Content 60 Vega Capsules à 590mg = 35,4g
Food supplements should not be used as a substitute for a balanced and varied diet as well as a healthy lifestyle. Please keep the product out of the reach of small children.